Scott Gibson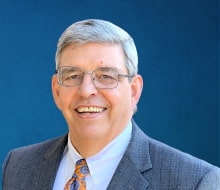 For more than 35 years, Scott F. Gibson has helped businesses protect themselves from unfair competition and disloyal employees. He does so through a unique position in the law, a position based on a blend of skills derived from his courtroom experience and from a deep understanding of the legal theories implicated by unfair competition. As a result, his clients are able to more effectively protect their intangible business interests.
Scott has an uncanny ability to quickly spot the most important issues in a case, which enables him to focus on ways to resolve rather than expand litigation. He is an effective advocate and a creative negotiator for his clients. His ability to spot critical issues has helped many clients bring cases to an early conclusion through negotiation or motion practice. When a case cannot be settled through legal motions or favorable negotiations, Scott is a well-prepared and effective trial attorney.
Scott also is the only lawyer you will ever meet with two advanced legal degrees in cutting-edge areas of the law: Biotechnology and Genomics (LLM from the Sandra Day O'Connor College of Law at Arizona State University in 2007) and Litigation Management (LLM from Baylor Law in 2021). As part of his studies in Litigation Management, Scott performed specialized research into changing the way lawyers think about legal dilemmas to help clients avoid those problems before they arise.
In addition to being a student of the law, Scott is a skilled teacher. Since 2008, he has taught a course in Trade Secrets and Restrictive Covenants at the Sandra Day O'Connor College of Law at Arizona State University. He regularly writes, speaks, and teaches on trial skills, intellectual property, and employment law issues, particularly regarding trade secrets and restrictive covenants.
Legal Publications
Three Tips for Drafting Enforceable Restrictive Covenants,

Arizona Attorney

, January 2022

Restrictive Covenants Under Arizona Law: Step Away from the Step-Down Provisions, 51 Ariz. St. L. J. 593 (Summer 2019)
Determining Ownership of Genetic Samples, 48 Jurimetrics J. 167-191 (2008)
5 Tips for Drafting Enforceable Restrictive Covenants, In-House Defense Quarterly, October 2019
Remedies for Misappropriation of Trade Secrets Under the UTSA, Remedies in Intellectual Property Cases, DRI Defense Library Series
Affirmative Defenses Under the Uniform Trade Secrets Act, DRI Litigation Notebook
Convert Your Intangible Assets Into Corporate Crown Jewels, In-House Defense Quarterly, April 2012
Important Considerations in Conducting a Trade Secret Audit, For the Defense, February 2011, page 36
Protect Your Intangible Assets: Wear a White Hat, For the Defense, March 2010, page 40
Trade Secrets and Agreements Not to Compete: A State-by-State Compendium, DRI Defense Library Series (2009, 2011), author on sections on Arizona law
Calculating Damages for Misappropriation of Trade Secrets, Defending Damages Claims in Business Tort Cases, DRI Defense Library Series (2009)

Determining Ownership of Genetic Samples, 48 Jurimetrics J. 167-191 (2008)

Arizona Employment Law Handbook, author of section on Attorney/Client Relationship (2007)
Employment Law: A State-by-State Compendium, DRI Defense Library Series (2006, 2010), author of section on Arizona law
Is the Hedonic Damages Party Almost Over? For the Defense, August 1997, pages 35-38, with Jerome M. Staller, Ph.D.
Expert Testimony on Hedonic Damages is Inadmissible, Defender, Vol. 5, No. 4, Winter 1996

Securities – Determining Equal Fault Between Tippers and Tippees Under Rule 10b-5, 1985 Ariz. St. L. J. 569
Seminars Taught
Jury Trials 101: A How-to Guide, National Business Institute seminar, February 28, 2020
The Rules of Evidence: A Practical Toolkit, National Business Institute seminar, June 20, 2019
Using Social Media, Smartphones and More in Employment Disputes, National Business Institute webinar, December 2018
The Epic Implications of Epic Systems, DRI Webinar, October 9, 2018
Safeguarding Your Company's IP and Secrets, DRI Employment and Labor Law Seminar, May 18, 2018
Advanced Employment Discrimination Claims, National Business Institute webinar, April 3, 2017
Responding to EEOC and State Agency Charges, August 10, 2016
Convert Your Intangible Assets Into Corporate Crown Jewels
How to Become a Defendant in an Employment Law Suit, First Annual Symposium, Arizona Non-Medical Home Care Association, September 2011
Building a Better Board, Qualetaqa, July 2011
Protect Your Intangible Assets: Wear a White Hat, Proactive Alliance, 2010
Eat Your Alphabet Soup, Arizona Non-Medical Homecare Association, March 2010
Safeguarding and Litigating Trade Secrets and Non-Compete Agreements, State Bar of Arizona, October 2009
The Life Cycle of Business Intellectual Property: From Birth to Death, State Bar of Arizona, June 2007
What's Mine is Not Yours, Defense Research Institute, May 2007
Privacy in the E-Work Place, Council on Management, 2003
Effective Use of Motions for Summary Judgment and Motions in limine, State Bar of Arizona, June 2000
Avoiding Claims of Sexual Harassment, Mesa Chamber of Commerce, 1998
Make Your Employee Handbook Work With You, Not Against You, October 20 and 22, 1998, presented with Bill Dahlberg at the 6th Annual Human Resources Conference for the Arizona Employers' Council
Law Firm Marketing for Arizona Attorneys, November 17, 1998, presented with Norm Hulcher for the National Business Institute
Denton Peterson Dunn, PLLC
Mesa Location:
1930 N Arboleda #200
Mesa
,
AZ
85213
Office:
480-325-9900